I am in the midst of writing my first book. I have been teaching and speaking for years, and I have been writing a weekly e-mail message, The Pulse of Spirit, since 2005. But it is wonderful to now be so deeply immersed in writing about something for which I have so much passion—our profound destiny as human beings.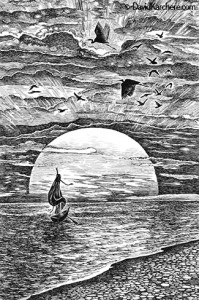 I have found that, for most people, their own life pattern is a mystery to them. They don't understand why they experience what they do. They can't see all the magic that is at work in their life. And they don't understand the very subtle things they are doing that are affecting what is manifesting all around them.
When I first began to see this at work, I was amazed. I was astonished to see that our humanness is living within a profoundly simple pattern that manages to escape the awareness of most people. And I was delighted to find that I could assist people to see and understand the key part they, themselves, are playing in their own life.
The title of the book is Becoming a Sun. This refers to the experience of letting the spiritual radiance within us come all the way through. And about letting our own spiritual radiance merge with others'. My wife, Joyce, is helping me to bring the book together. And Shareen Ewing, who has a depth of experience in editing and publishing, is assisting me too.
This is from the introduction:
"I believe that the truth behind the words of this book is relevant to every aspect of human experience, from the most intimate areas of love and family, to the fields of business, organizational leadership and finance. Of course, you will have to see whether what I have written applies to you, and how. As you read, I invite you to consider how the essential ideas of this book are relevant to all facets of your life.
"I understand that, for most people, the idea that there could be a shift in consciousness or a change of heart for all humanity that would answer the most pressing issues of our day might seem unlikely. Nonetheless, that shift and change is already occurring in people around the globe. Like any significant shift in human paradigms, it is beginning with a relatively small number of people. If you are one of them, congratulations! You are probably in the midst of a fulfilling, sometimes perilous adventure—a learning experience of the highest order. So if you have chosen to take an active part in the evolution of consciousness, I wish you well, and I hope the words that follow assist you on that journey."
Here is an excerpt from the first chapter of the book:
"What your world, and the people in it, need most from you is for you to be a sun.
"They need your warmth. Your ability to offer your care for their well-being. Your ability to offer blessing. Nothing imposed. Nothing affected. Just the abiding spirit of love, constant in your heart of hearts.
"When faced with the coldness of other people, or the coldness of the world, return that coldness with your warmth. And in the fire that fuels your warmth, transform what the world gives to you without reaction. Let the coldness be transformed and transmuted in your inner fire until it is burnt to ash and ascending flame. Then return to your world the fire of your love. Let your world feel the warmth of the sun through you."
And here is part of a poem from the book, entitled Between the Birch Trees and Among the Ferns: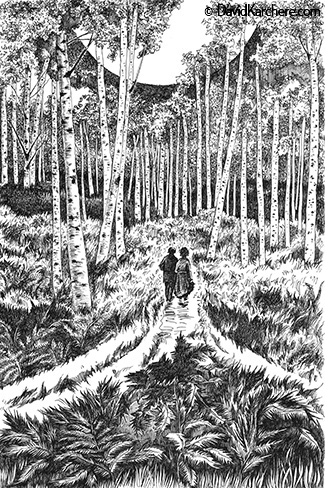 Come, let us go, my friend, to that place in the forest
where we once together stood,
between the birch trees and among the ferns
with the sun streaking through
the limbs and leaves and the late-summer air.
Come, let us go to that place
with the elephant-skin beech trees around us,
where we gazed into each other's eyes on that day so long ago
and swore the oath of our lives,
forsaking all but this one thing:
that the granite in our hearts
would be turned inside out in the September sun.