About David Karchere
David Karchere is an author, speaker and workshop leader, and foremost thought leader on Primal Spirituality worldwide. David describes Primal Spirituality as our first spirituality—the spirituality we were born with, and the innate, sacred bond that is behind all the world's great religions and spiritual paths.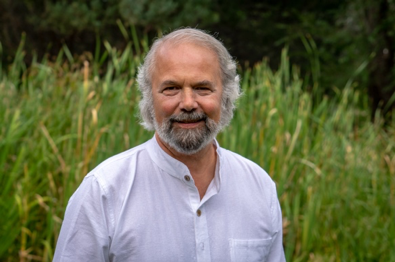 "Your world needs your light. Your wisdom. Your intelligence. Your vision. You have the ability to light up your world so that the people in it can see."
– From Becoming a Sun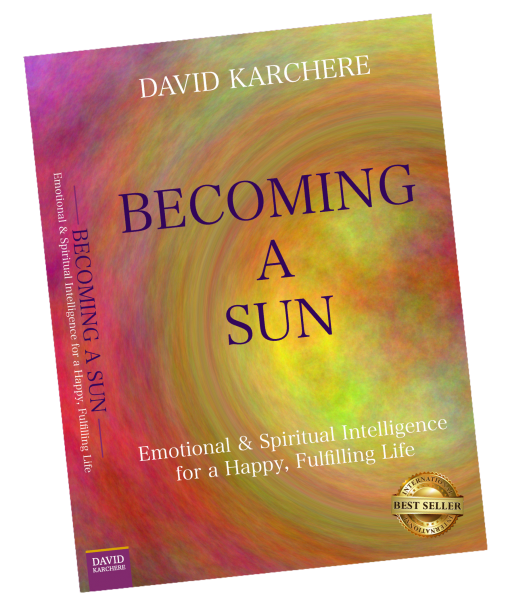 David developed the Full Self Emergence program, a six-month internship for personal development and transformation. David originated the Healing Chant Workshop and the Journey Into the Fire Intensive. He has offered workshops, trainings and lectures in the United States, Canada, Europe, South Africa, Japan, South Korea and Australia.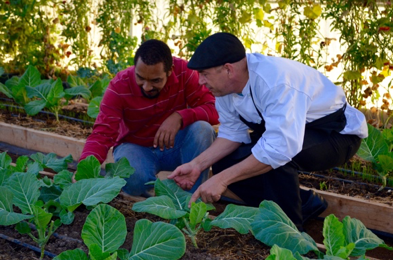 David is the spiritual director at Sunrise Ranch, a teaching and demonstration site for Primal Spirituality. It is located in Loveland, Colorado, on 350 acres in the foothills of the Rocky Mountains. Sunrise Ranch is staffed by a multigenerational community of 100 people. It is a conference and retreat center and a working farm practicing regenerative agriculture.
Founded in 1945, Sunrise Ranch is the oldest intentional community in the United States.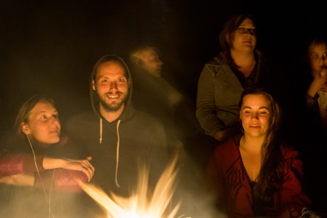 "It takes courage to be yourself—to embrace your own humanity, perhaps broken and imperfect as it is. To embody and express who you are and let the world know you—that takes real courage."
– From Becoming a Sun
David is a lifelong poet and songwriter. Here is a poem that appears in the second chapter of Becoming a Sun. It is illustrated with a drawing by Diana Bychkova.
Between the Birch Trees and Among the Ferns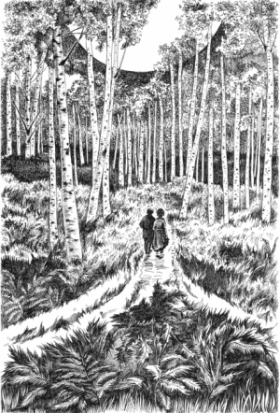 © Illustrations and graphic design by Diana Bychkova,
DS Art studio, ds-art.net
Come, let us go, my friend, to that place in the forest
where we once together stood,
between the birch trees and among the ferns
with the sun streaking through
the limbs and leaves and the late-summer air.
Come, let us go to that place
with the elephant-skin beech trees around us,
where we gazed into each other's eyes on that day so long ago
and swore the oath of our lives,
forsaking all but this one thing:
that the granite in our hearts
would be turned inside out in the September sun,
that our best ideas for a world to come
would evaporate like the morning dew
on the maidenhair ferns at our feet;
that eye to eye and man to man,
across whatever roads we had each traveled to that place,
in that clearing in the woods,
in that hour, and in all the hours and days to come,
that for eternity our being,
from the core to each and every finger and toe,
all of who and what we are, and all of what we have
would be given absolutely and totally to the One we could not name,
but whom we loved with a love so all-consuming
we could no longer deny.
Oh, how my soul aches with that love in this hour,
no less unremitting than on that day,
only turned more gold than crimson,
more like the beech tree than the birch,
as I pray for the fullness of this day's harvest.
So I beseech you, my friend, come,
let us go to that place in the forest where we once together
stood between the birch trees and among the ferns
with the sun streaking through the limbs and leaves
and the late-summer air.
Come with me now to that clearing,
and let us feel together the sun on our now graying hair;
and with that blessing, let us finish what we have yet to do together.