This Week's Quotation:
Verbal descriptions of spiritual experiences cannot capture the wonder of them. I have no words large enough or rich enough to communicate the vision that came to me. It was not a physical vision. But, nonetheless, it was as lucid and as real as anything I have seen with my physical eyes. The best description I have for it is that it was of a heavenly court. Not angels exactly as we think of them. But heavenly Beings with light emanating from them and all around. And in the midst of them all, there was a Being of the most exquisite, overwhelming love.

For me, the sun had come out from behind the clouds. Everything in me turned molten. I was in awe. When the session concluded, I stumbled out the side door that led directly outside. I got far enough away from everyone else, walked into a stand of small trees and shrubs, and sobbed.

I cannot believe the sacredness of what I have just seen.

Becoming a Sun p. 4
Holes in The Floor of Heaven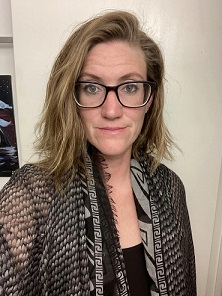 As we speak about letting the rain pour down and being a mystic, I am reminded of the moment I shared with my grandma as she left the physical world. I was greeted in her hospital room by the rest of my family and nurses. They offered their hugs and warned me that she was delirious and tried to prepare me for what I was about to see. As I approached her, her eyes lit up! Without any spoken words, I heard her voice in my head; Oh, thank heavens! Brooke is here!
I could understand her perfectly fine.
She desperately wanted to hear a song, and nobody else could figure out what she was trying to say. I asked her to sing me any lyrics she could remember. I heard, There's holes in the floor of Heaven.

I found the song right away and played it for her. As joy welled up in her eyes, I heard her unspoken voice again. That's it! Thank you, Brooke! We held hands and listened to it together.  
Grandma's watching you today.
Cause there's holes in the floor of Heaven,
And her tears are pouring down.
That's how you know she's watching,
Wishing she could be here now.
An' sometimes if you're lonely,
Just remember, she can see.
Then, three years later, amid a week full of blessings, my heart cracking open, and emotional turmoil inside myself, I looked across the lunch table, and there she was, looking right at me!
The sacredness of this experience deeply touched me. I will never feel alone again.
What does it mean to become a sun?
Every human being is already a sun on the inside—a being of intense love and light. The difference is that some people have the vision and courage to become a sun on the outside. This difference is our human destiny.