This Week's Quotation:
Can you view your own emotional realm as pristine? There might be things rotting in there. There might be all kinds of storms and lots of transformation occurring. But just because there are storms and transformation in nature does not take away from the pristine quality of the natural world. The same is true for a human being.
~ Becoming a Sun p. 230
Pristine Primal Spirituality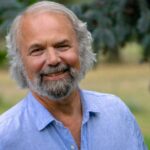 In last week's post, I described the natural world as pristine, even though it is dirty, full of things that are rotting, and full of animal waste. Despite all that, we walk through a forest or gaze from a mountaintop at the valleys below, and feel the pristine quality of the Earth, marred only by human civilization.
Why don't we have the same kind of view of ourselves?
Our primal spirituality is our original spirituality. It is built-in. Like nature, which can be covered over by human development almost to the point of total obscurity, our primal spirituality can be covered over by our own personal brand of human sophistication until our knowledge of ourselves as pristine is lost.
I lived in New York City for nine years. At first, all I saw was pavement and buildings. But gradually, I began to see the awesome geography of that part of the world. I gazed at the palisades across the Hudson River. I walked past the rock outcrops, lakes, and ponds in Central Park. I sailed up the East River, past the UN building, and under the 59th Street Bridge.
I learned that even with all the concrete, steel, and asphalt, Mother Nature was still present. She still presided over her world.
Are we not the same? There is so much from the post-modern culture that is laid upon our hearts and souls. Emotions and moods can be like hurricanes, droughts, blizzards, and cyclones. And yet, under and through it all, Mother Nature presides. Our primal spirituality is still there. And it is pristine.
The holidays of this season celebrate the pristine nature at the core of every human being and its awesome power. I invite you to embrace your pristine primal spirituality with me now.
What does it mean to become a sun?
Every human being is already a sun on the inside—a being of intense love and light. The difference is that some people have the vision and courage to become a sun on the outside. This difference is our human destiny.