This Week's Quotation:
It really comes down to this. Generosity is the source of all virtue. As you are connected to the generosity of all Being that dwells within you, you are nourished from within. The generosity at your core feeds all the rest of you. It emanates from you. There is pleasure in that emanation. As Olympic racer Eric Liddell wrote in The Disciplines of the Christian Life, later told in the movie Chariots of Fire, "When I run, I feel His pleasure." The human soul knows pleasure as the love and wisdom of Being pours through it. Nourished from within, you can appreciate that the cycles of creation are already bringing you what is rightfully yours.

Becoming a Sun p. 278
The Pleasure and Fulfillment of Being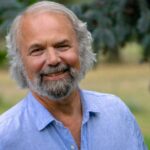 My mother told me as a child that Welsh people love to sing and that there is nothing so lovely to listen to as a Welsh choir. A week ago, for the first time in my life, I heard one live. It was at a local church in Laugharne, the Welsh town where Dylan Thomas wrote his radio drama, Under Milk Wood.
The Corran Singers performed life-affirming songs with great heart. A young tenor from the Welsh National Opera performed, Rhodri Prys Jones. My mother would have loved it.
Rhodri filled the church with his passionate voice. He sang at the top of his lungs for the mayor of Laugharne and for the modest assembly of mostly local folk who turned out.
It seemed to me that Rhodri sang—in a wonderfully exhilarating way—out of proportion to the setting. It was a little wooden church in Laugharne, but he sang for the opera house. There was joy all over his face as he gave it all he had. He radiated the pleasure and fulfillment of his Being in expression.
That's how I want to live. How about you? I want to sing for the opera house, write poetry for the world, and speak for a football stadium. I want the pleasure and fulfillment of expressing all of who I am—all my love, all my joy, all of what I know. And yes, I'll think about how to do it in a way that fits the immediate world in which I live. But I'm giving it all I've got. I'm leaving it all on the field. I want to feel His pleasure as I live.
What does it mean to become a sun?
Every human being is already a sun on the inside—a being of intense love and light. The difference is that some people have the vision and courage to become a sun on the outside. This difference is our human destiny.