This Week's Quotation:
What I notice is that when the grace of God is present through a person, those around them recalculate their lives. They sort their lives out in a different way. Perhaps they have been trying to sort it out in desperation, in a way where there did not seem to be any possibility. But now they are seeing possibility where there was none. They are seeing options where it looked like there were no options. And they are finding all those experiences that the spirit of love brings to a person—the feeling of self-worth, real meaning, value, and the lifting of the awful burden of shame with which so many people live. The grace of the Great Mother says, "Come to me, I'm always here, and I'm always free."
~ Becoming a Sun p. 305
The Grace of the Great Mother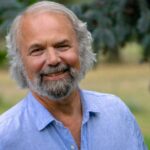 There are two qualities that come to mind as I think of the Presence of Mother God—comfort and mercy. There are certainly people who brought that Presence into my life. And I know I have the ability to bring comfort and mercy to others.
Early this week, a young American man, Jericho Skye, died on the battlefield in Ukraine. He had gone to train combatants and somehow must have ended up putting himself in harm's way.
Jericho was a man of uncommon good looks with a noble spirit. He was a natural leader and beloved by the Sunrise Ranch community.
His family came to Sunrise Ranch to be together and care for Jericho's affairs. It came to me to announce Jericho's passing to community members.
I had everyone stand in a circle with arms around the person to the right and to the left. And then I told them the hard news. Sobs filled the room.
I knew the Great Mother would show up to comfort us. She was there within the circle and in our embrace of one another. She showed up as us hugging one another, especially Jericho's family.
There was no way that such an occasion was anything but heartbreaking. But it went differently than it might have because the Great Mother's Presence was there through us. We felt her saying, "Come to me, I'm always here, and I'm always free."
What does it mean to become a sun?
Every human being is already a sun on the inside—a being of intense love and light. The difference is that some people have the vision and courage to become a sun on the outside. This difference is our human destiny.